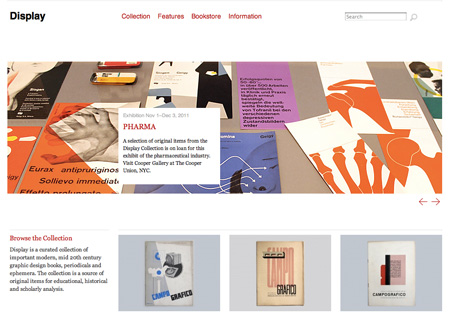 Display
Display is a curated collection of important modern, mid 20th century graphic design books, periodicals, advertisements and ephemera.
Unit Editions
Unit Editions is a new, progressive publishing venture producing high-quality, affordable books on graphic design and visual culture. We combine impeccable design and production standards with insightful texts and informative commentaries on a wide range of subjects.
Counter-print
Vintage and rare design books
Lars Müller Publishers
Lars Müller Publishers is an internationally active publishing house. The press has made a worldwide name for itself – and not just in specialist fields – with carefully edited and designed publications on architecture, design, and contemporary art.
magculture.com
The magCulture blog bangs the drum for editorial design. We love all types of magazines and newspapers, whether in print or digital form. What matters is the innovation, creativity and thought behind them. The blog is written by Jeremy Leslie, creative director at magCulture, but relies on suggestions and submissions from many others around the industry and the world.