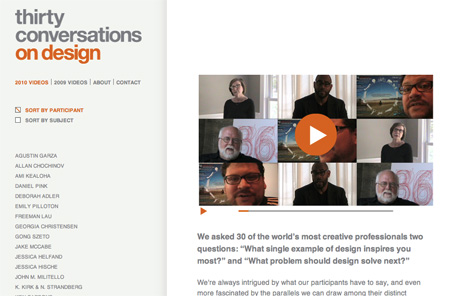 thirtyconversationsondesign.com
In 2009, Little & Company celebrated their 30 years in business by turning to those who meet us fascinated in this the design industry. Theye sought out the world's most creative professionals – architects, designers, authors and leaders of iconic brands – and asked 30 of them to record their thoughts on design.
design-your-life.org
Design Your Life is about objects and how we interact with them. Illustrated throughout with paintings of things both ordinary and odd, this book casts a sharp eye on parenthood, housekeeping, entertaining, time management, crafting, and more.
designhistory.org
A History of Graphic Design — On the web since 1999
aiga.org/a-design-education-manifesto
More wise words from AIGA — School is hard. Design school is especially hard because so much of it exists within the abstract, the opinion. There are few, if any, absolutes as you go through design school. Much of design education is about learning some key techniques and then trying to apply them to your work in interesting ways. Read their manifesto on on how to get the most out of it and beyond as a creative professional.
aiga.org/graphic-design-theory
Graphic design has often looked to architecture as an intellectual model. We long to infuse our work with the same kind of dense theoretical knowledge and the same kind of broad ranging, legendary critiques. But we're not architects. We're graphic designers. Our role is less defined. We cross between print and web, 2-D and 3-D. Our work is easier to produce and more ephemeral. This fluidity, coupled with a discipline-wide pragmatic streak, makes it difficult to establish a defined body of graphic design theory. Or does it?
What is graphic design?
A lo-fi vox pop made in 2002, that asks people on the streets of Melbourne the basic questions about graphic design. By Studio Pip and Co. and Dogma Productions with Andrew Pegler.
David Dabner on letterpress and computers
Veteran graphic design/typography and letterpress teacher from the London College of Printing/London College of Communication: David Dabner talks… giving an insight into the principles of design, creative letterpress and why computers make students sloppy.