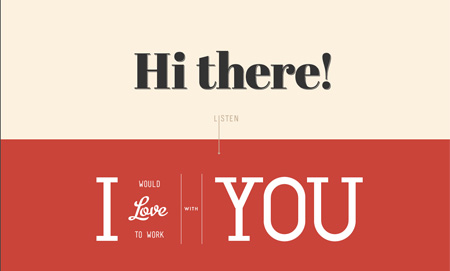 In our lists of things to consider in "Bridging the Gap" we talk about getting noticed. Often its difficult to find a voice or platform amongst the hundreds of graduate designers each year. We love to see clever and creative ways of introducing your self and your work. Recently we came across iwouldlovetoworkwithyou.com its the work of Prague based graphic design graduate Jakub Foglar. By building a relevant, authentic and fun website aimed specifically at his target agency he succeeded in getting the summer placement at edenspiekermann. In fact Jakub's site attracted interest from all over the world and resulted in many oppertunities — you can read about it on how blog.
Another great example of creative thinking is the "The Google Job Experiment". Alec Brownstein banked on the egos of five top creative directors. He spent the princely sum of $6 with google Adwords and when they googled themselves they were greeted by an ad from Alec asking for a job. He got interviews with four out of the five and is now working for Y&R New York. The story was covered around the world, check out the details on his site alecbrownstein.com.
A work of caution. Only try and be clever if you can follow through, if you try remember that first impressions count. Good ideas need to be exactly that. We still cringe when we recall the story of one graduate who, before arriving for interview, sent a pair of heat proof gloves to the creative director they were about to meet, with a note that read… "caution the portfolio you are about to see is extremely hot" — oh dear.