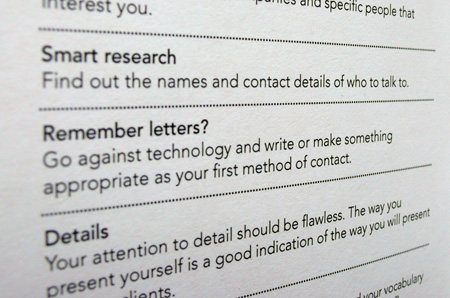 In these strange times, internships may be one of the best ways to launch a design career, so embrace them — don't avoid them.
 Its a great opportunity to:
 Apply design skills acquired in college to real-world projects
 Collaborate with professionals
 Gain insight into the professional world of design
 Try out a working environment where you may hope to land a full-time job
 Network with design professionals
Getting noticed —
making a great application
Don't wait for internship opportunities to find you  — Be proactive, contact companies and specific people that interest you.
Smart research — Find out the names and contact details of who to talk to.
Remember letters? — Go against technology and write or make something appropriate as your first method of contact.
Details — Your attention to detail should be flawless. The way you present yourself is a good indication of the way you will present work to clients.
Speak up — Express enthusiasm and intelligence, expand your vocabulary if necessary [don't just say its 'retro' or uses 'white space'].
Self promotion —
Introductory letter & CV
Dear Sir or Madam / To whom it concerns — Very seldom will a creative director ever feel like a 'Sir' or 'Madam' and 'To whom it concerns' is just plain lazy.
Show your writing skills — Graphic design is as much about words as it is pictures.
Share something about 'you' — Don't feel pressure to pretend to be someone you are not, it never works. If you are clever—be clever, if you are not don't pretend to be.
Considered flattery — Know your audience and their work, show you know your stuff and theirs too. Don't overdo it—it can be scary.
Don't use Microsoft Word — Most creative professionals put a lot of effort into avoiding Word wherever possible.
Self promotion —
Getting Noticed
Beware of gimmicks—they generally don't work. Be smart and creative with the medium or idea.
Only show your best work — Show the work that represents what you want to do.
Make your portfolio site lean and fast — Keep your project presentation simple and considered.
Avoid gloss — Don't waste hard earned cash or savings on an expensive or soulless promotional item or portfolio.
Consider analogue — Make something special, show you have a love for your craft. Aim to get it on the office notice board.

What we look for…
Communication skills — How you talk about what you do is as important as what you do.
Curiosity and energy — Show your inventiveness, resourcefulness and fearlessness.
Ambition without cockiness — We need team players not soloists.
Pro-activeness — Your ability to take initiative will be appreciated.
Great work — This is a given but not always the first on the list.
Once you are in…
Don't be afraid to ask 'stupid' questions — They can be a good route to good ideas.
Be enthusiastic — Be prepared that every task may not match up to your expectations.
Accept criticism well — It's all part of what we do.
Be professional — Take your cues from your co-workers.
Make the most of it — Make good contacts and good friends.
Some tips you really shouldn't ignore…
Things you learn are not always cast in stone, you will get conflicting opinion. Both can be wrong, and both true.
Realise that you are learning a trade, craft matters more than most admit.
Helvetica is great—but it won't change the world.
Red, white, black always go together.
Everyone is just making it up as they go along, but all good design is rooted in good thinking and good understanding.